Ever since the COVID-19 black swan, everyone from retail investors to professional money managers are searching for diversification protection. That both stocks and bonds closed 2022 lower only increased the push. At least, that's what data from the more than 1,200 advisors who use Advyzon to report performance showed.
For years, Advyzon firms allocated significantly less than 1% to alternatives—notable in and of itself given the 20-25% alternative allocation preferred by institutional wealth managers. At the close of 2022, however, advisors had roughly 3% of client funds in alternatives. We also saw an increase in "other" investments, which may represent certain unclassified alternative investments and subjective products, such as CDs.
Before we dive into the details, consider how advisors invested client funds in 2022 compared to 2021. (Data shows holdings as of December 31 of that year.)

The story with stocks and bonds
The allocation to equities fell last year. By the end of 2022, advisors had just 54% of client assets in stocks, compared to 60% the year prior. Not all of that shift can be blamed on lackluster performance.
Brian Huckstep, Chief Investment Officer at Advyzon Investment Management, crunched the numbers: "U.S. stocks were down 18% in 2022 while bonds were down just 13%. That math explains roughly half of the drop in equity exposure from 60% to 54%."
Bonds, however, weren't a source of protection, even as they underperformed less than stocks. The allocation to bonds shifted by just 50 basis points—advisors had 20.32% of client funds in bonds at the close of 2021 and 20.82% at the end of 2022.
Getting alternative and cashing in
While a 3% allocation to alts may seem small (and is small, objectively), it's still nearly a 400% jump from previous years. Of course, the way alternatives are tracked and reported by companies may vary. While Advyzon builds custom data integrations to help advisors integrate alternative investments into their traditional client reports, the numbers may be slightly vaguer than with other asset classes.
Still, inflow into liquid alts hit record levels in 2022, a trend that Advyzon advisors contributed to. According to Shana Sissel, CEO of Banríon Capital Management, the inflow makes sense: "The availability of alternatives is far greater than ever before," she said, adding, "2022 demonstrated the value of evolving the traditional 60/40 portfolio to include an allocation to low-correlation alternatives."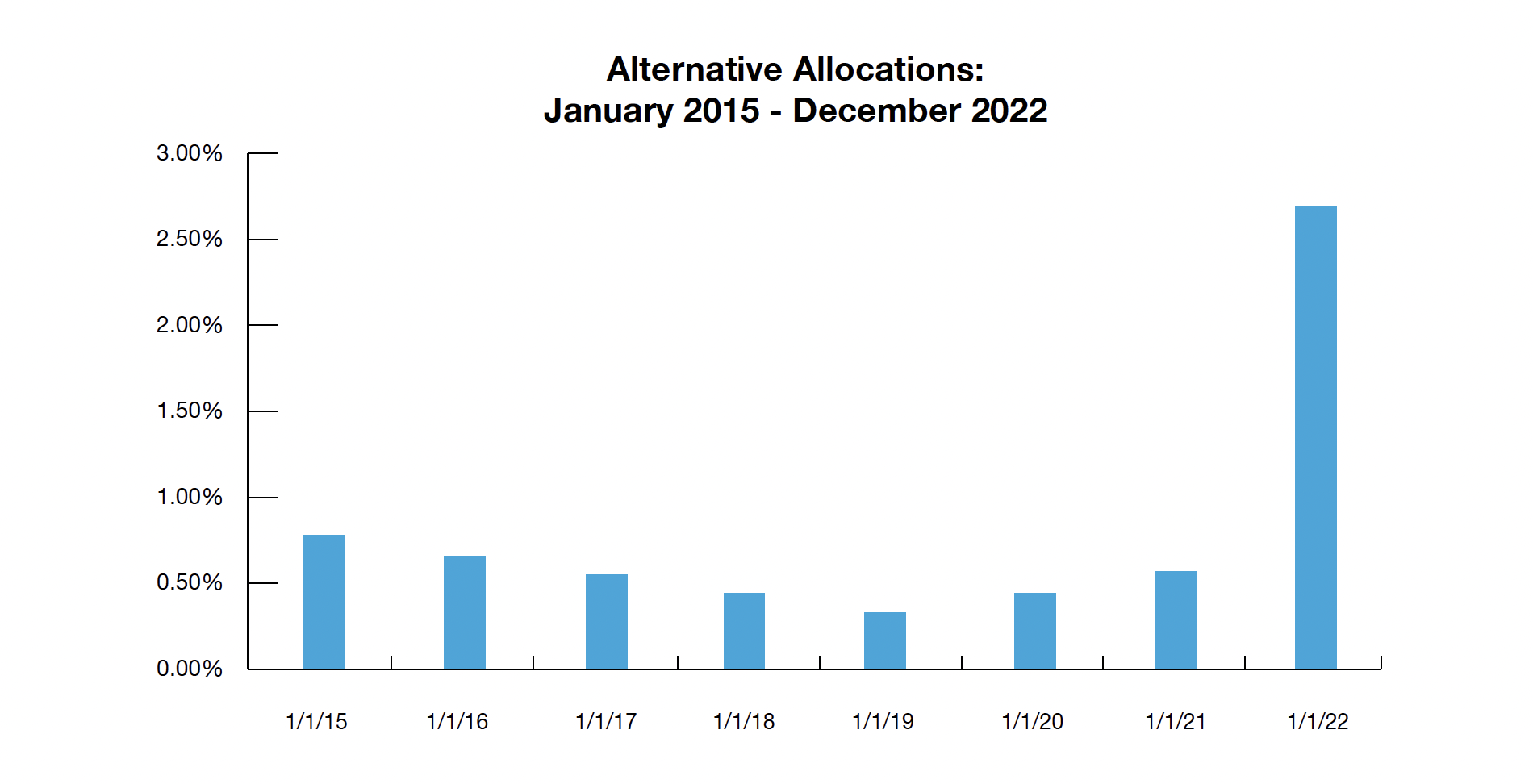 Huckstep added that as much as advisors say they want diversification, alternative performance in prior years may have curbed some interest. "The way alternatives performed in 2022 reminded investors that diversification often takes a full market cycle (7 to 10 years) to do its job."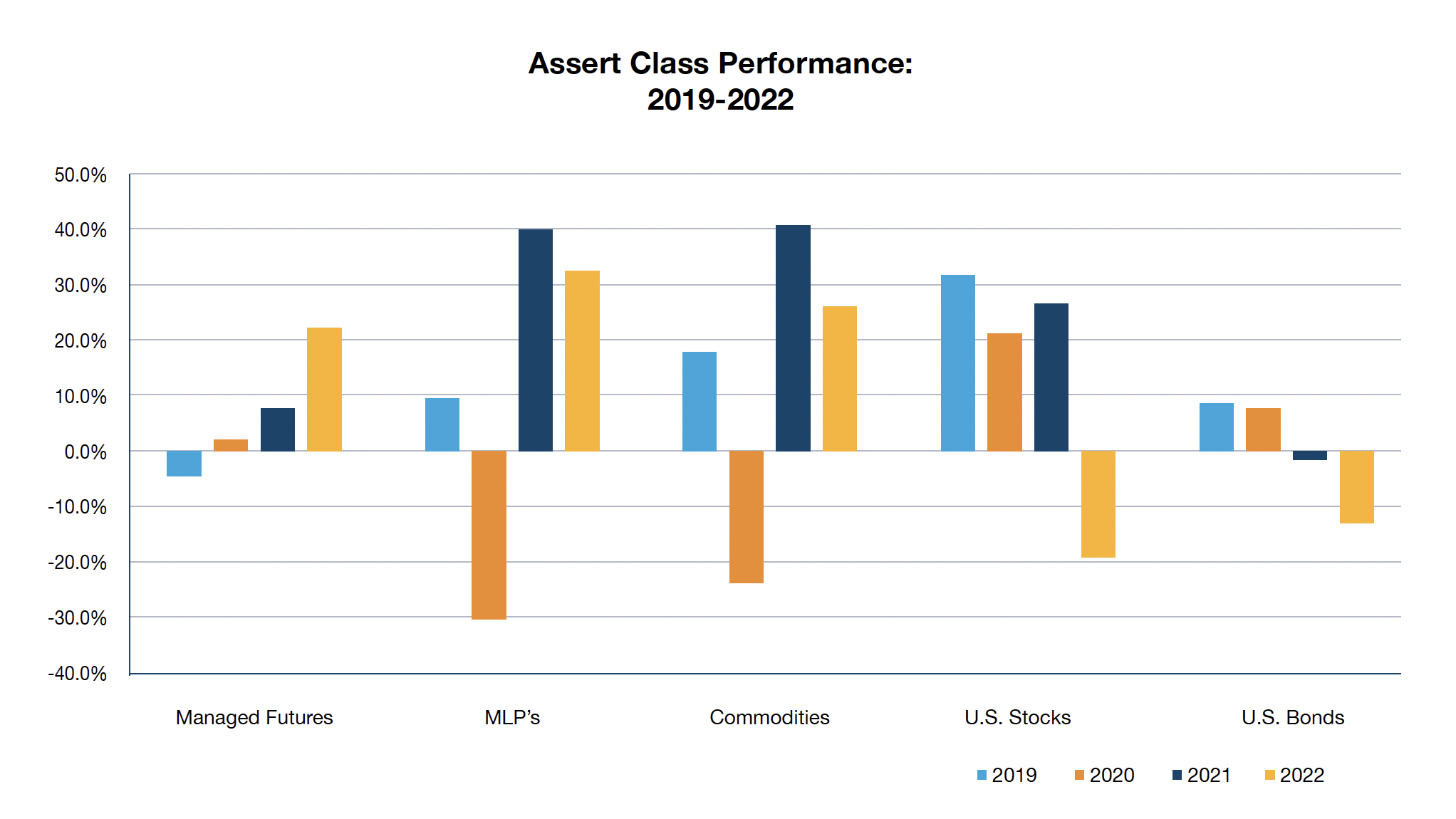 For further details on alternatives, including a closer look at an advisor that proactively focuses on private investments alongside public markets, download our full white paper, The New Diversification: Asset Allocation Into 2023. The full document looks at trends in allocation and how advisors invested client assets within each asset class. Plus, we look closer at the products advisors are using. For instance, ETFs finally dethroned mutual funds as the most popular investment product.