Portfolio Management & Client Reporting

Billing

CRM
Quantum Rebalancer

Document Management

Client Portal & Mobile App

Dashboard & Business Intelligence

Growth Suite
Portfolio
Management & Client Reporting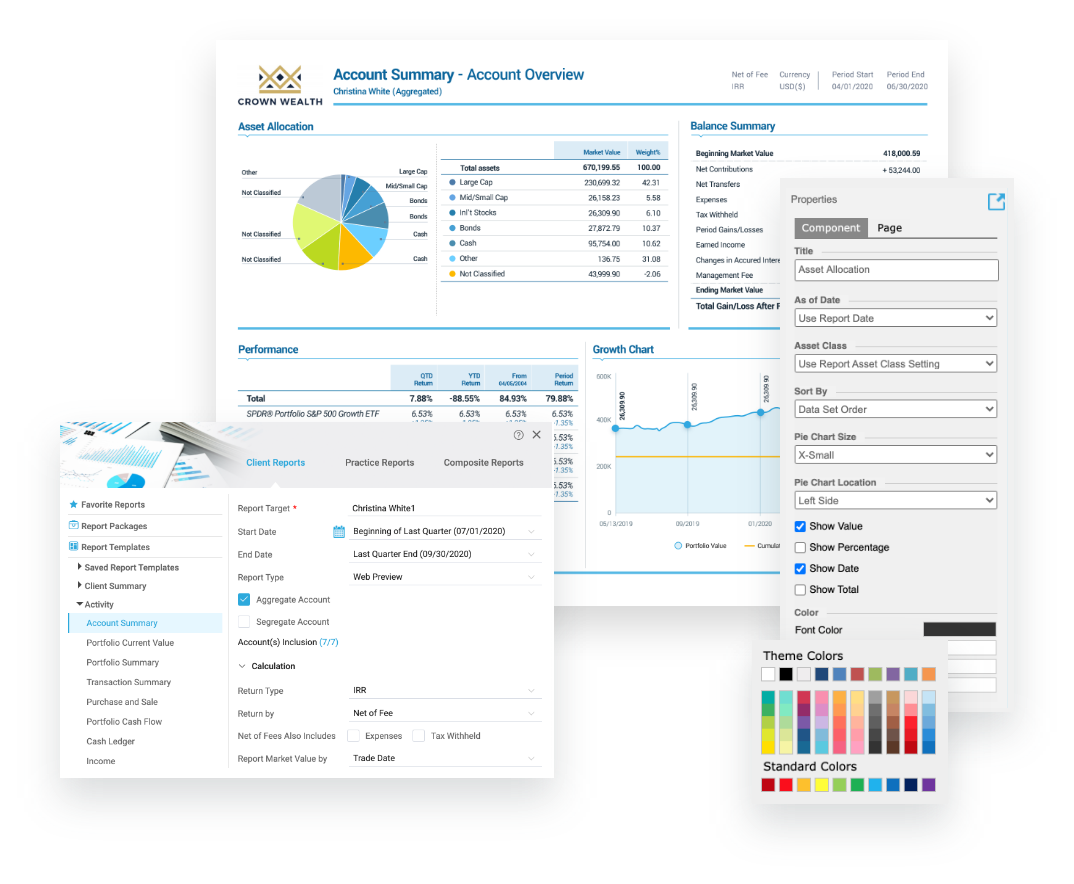 Beautiful, engaging reports
Well-designed reports quickly and clearly show clients your value. That's why client reports are the heart of what we do. In fact, the need for better reports was one of the reasons we started the company. Now, nearly a decade later, our reporting tool is the best on the market. Pull the data you want, then create visually engaging charts and tables in your brand colors.
Save time with automation
Once you've come up with a formula for your reports, it's easy to generate them on an ongoing basis at scale. Use the Reporting Center on our platform to schedule and run reports for every account at the same time. Choose to print reports or send them to clients electronically.
Easily track performance
We don't just generate beautiful client-facing reports. We also make it easy to create internal reports. See how your managed accounts performed over time using our Composites tool, which is designed to Global Investment Performance Standards. Or look at firm-level insights using our Practice Reports function. You can use this same tool to zero in on specific client groups.
Comprehensive asset tracking
Track everything from fixed income to cryptocurrencies in one place. Our fixed income reporting is particularly advanced and allows you to track a wide range of products. For instance, if you invest in mortgage-backed securities, our tool will include amortization and accretion in your client reports.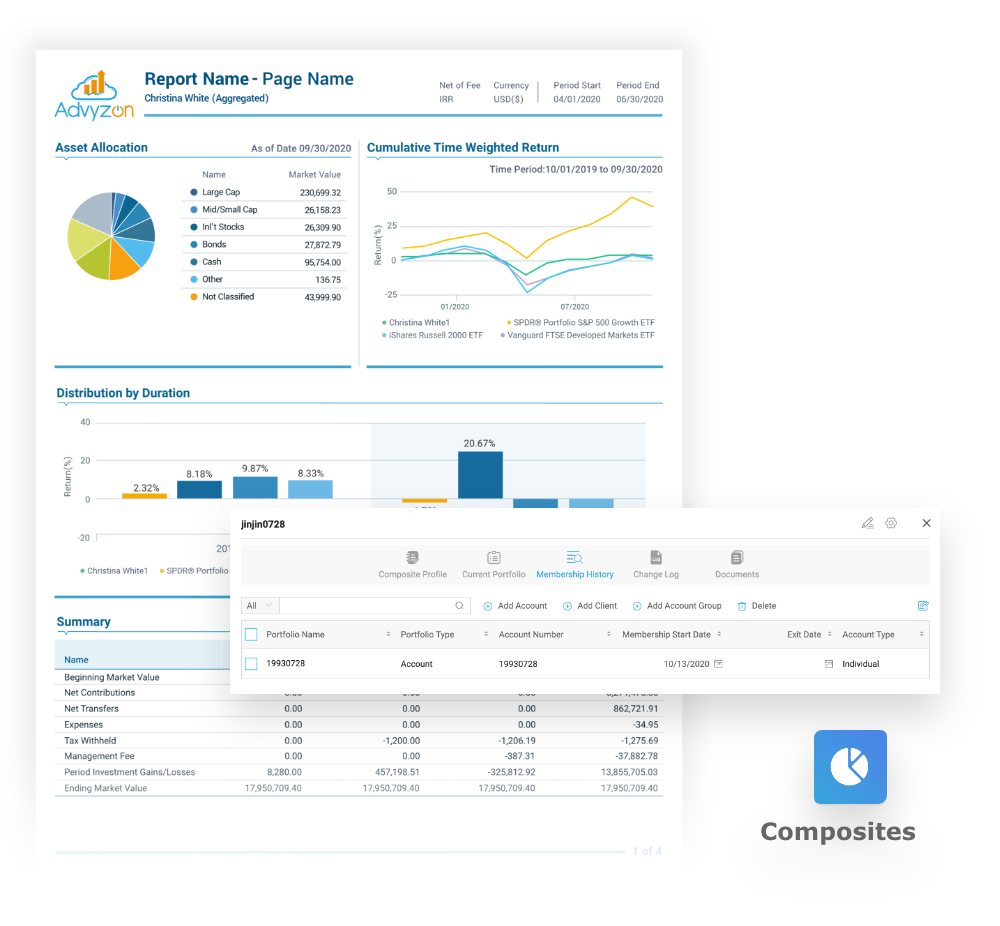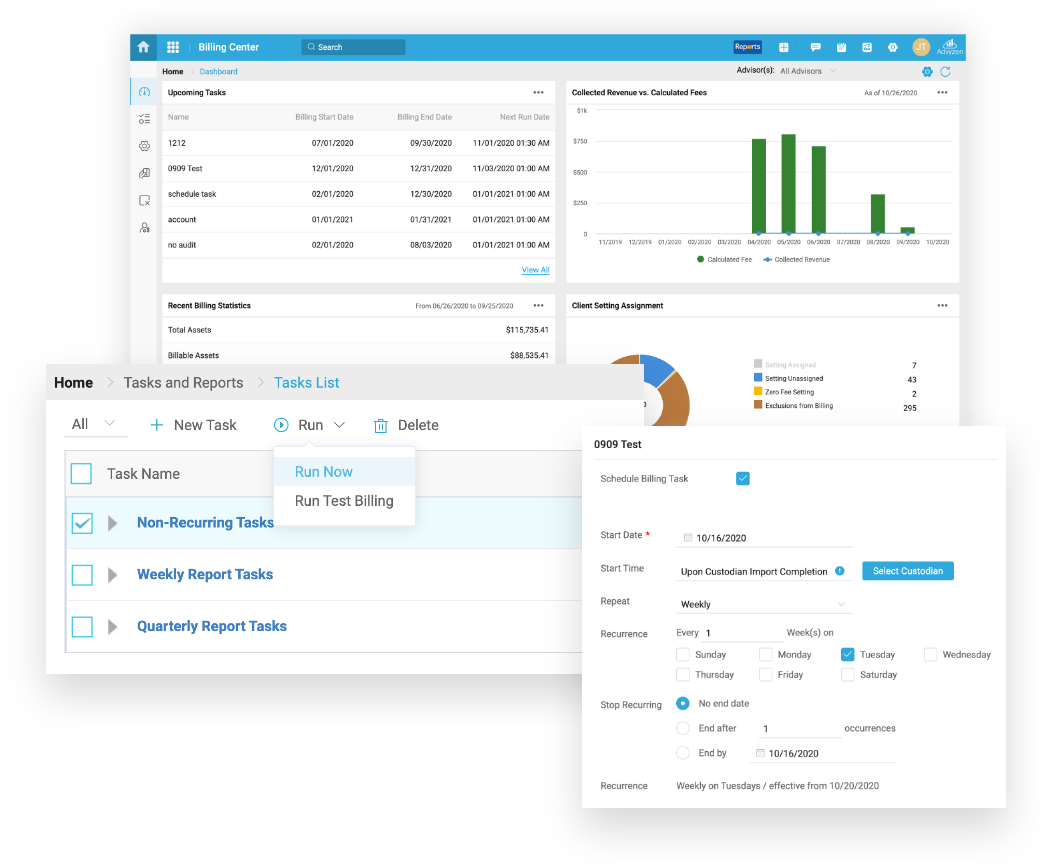 Efficient, accurate billing
We know reliable billing is critical to your success, so we pride ourselves on accurate and efficient billing technology. Have multiple fee schedules? No problem. Plan to mix percent AUM with a flat fee? We can do that. Want to exclude certain assets from your calculations? Sure. Monthly? Yep. Quarterly? Of course. Want to calculate your fees based on an average daily balance to help smooth out market volatility? No sweat — we can even help you show clients how you got your numbers. Did we mention billing generally takes less than an hour per cycle?
Stress less about cash flow
Once you've got your fee schedules set up, you can automate statement generation and invoicing. You can also upload preformatted fee files to any major custodian. We can't legally say it's stress free, but it's pretty close.
Show your clients you care
Client relationships are the center of what you do, so our customer relationship manager (CRM) is the center of what we do, too. It's so central that you won't see a CRM button anywhere on our platform. Instead, we've designed every part of the experience with client relationships in mind. Email records, notes, activity, and workflows are all accessible from a client's record, so you can get up to speed quickly and easily.
Manage communication and schedules
Advyzon works seamlessly with both Microsoft Office 365 and Google G Suite, so emails and appointments show up in a client's record automatically, with no extra steps. That means you can keep using your email and calendar tools as normal… but they'll show up in Advyzon and get archived for compliance.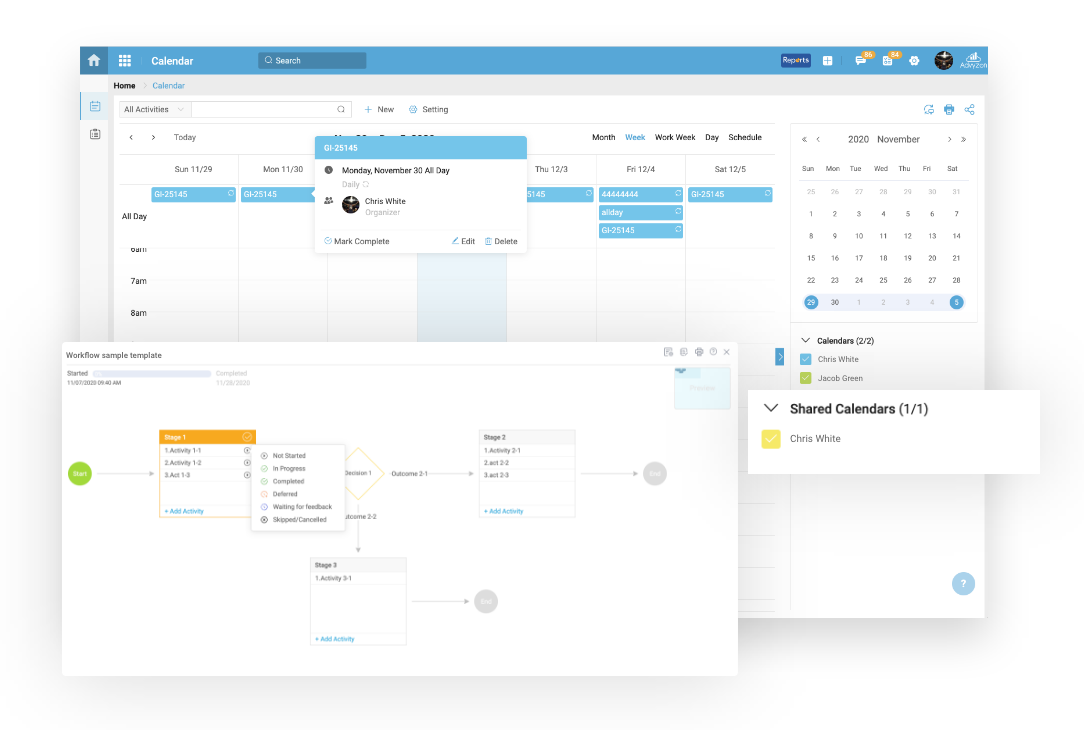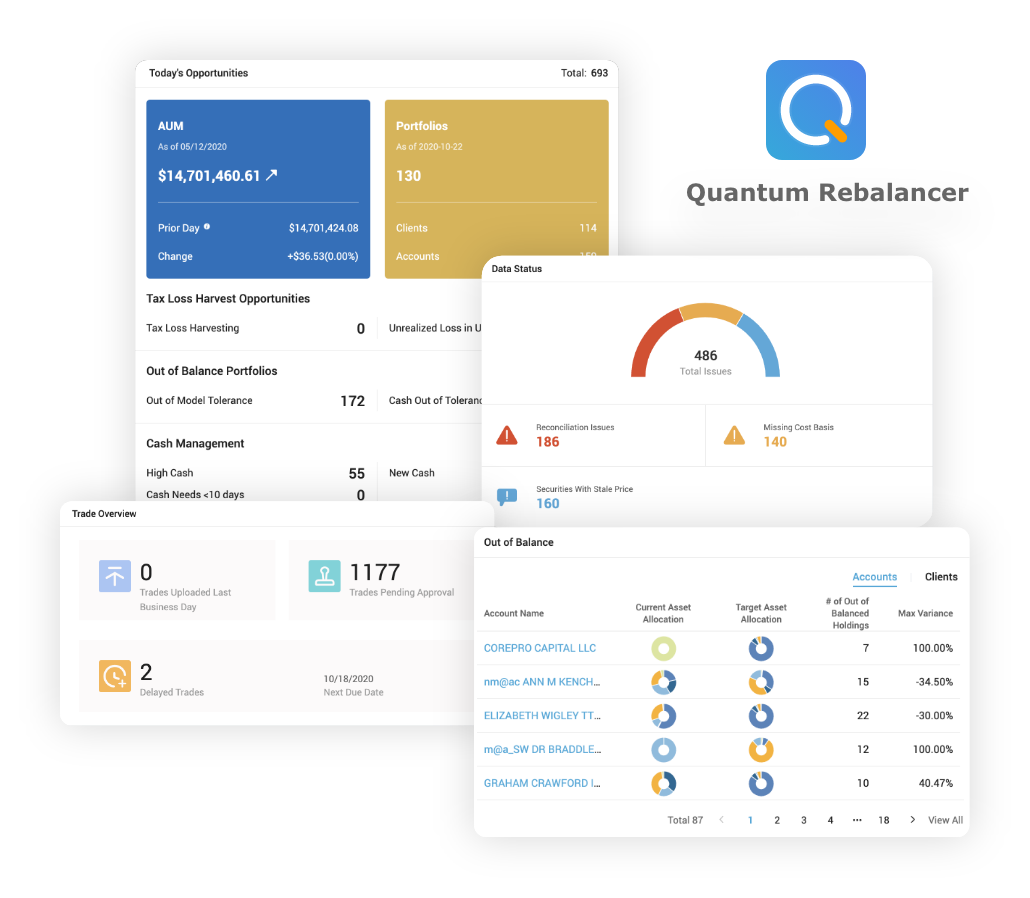 Powerful Rebalancer
Advyzon's Quantum rebalancer provides powerful trading and rebalancing capabilities with multiple rebalance and tactical trade tools supporting a variety of different objectives including location optimization, cash management and tax harvesting. Customizable trade preferences, robust model management capabilities and automated monitoring and processing tools give advisors the power to streamline portfolio management and optimize for client goals at scale.
Trading Simplified
Execute trades for all major custodians from within Advyzon via FIX or leverage our custodian trade integrations. Seamlessly create block trades and allocations for easier order management. Auto schedule rebalancing tasks and let Quantum do the work for you.
Fully Integrated
Create seamless business processes and avoid errors by leveraging the Advyzon all-in-one system of household and account records. Built-in dashboards drive efficiency and monitoring capabilities through interactive alerts on new accounts, cash needs activity, portfolio-model variance, tax management opportunities, data quality checks, and more.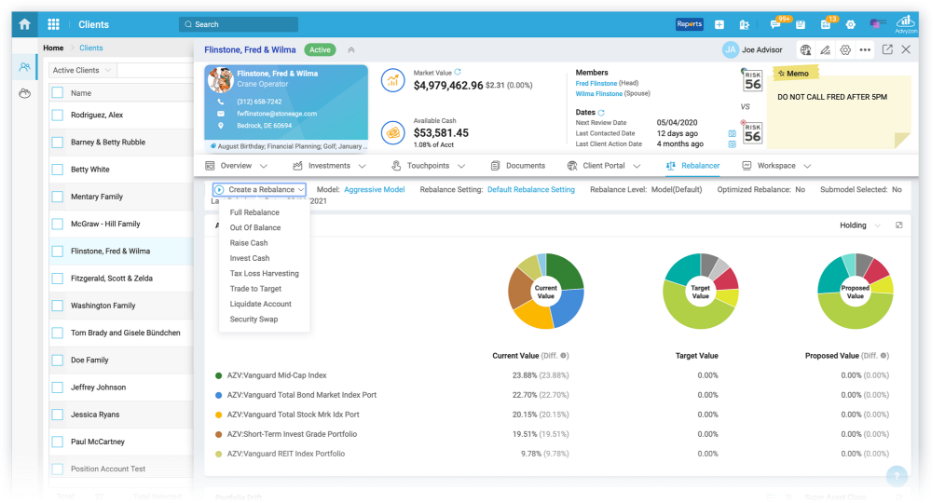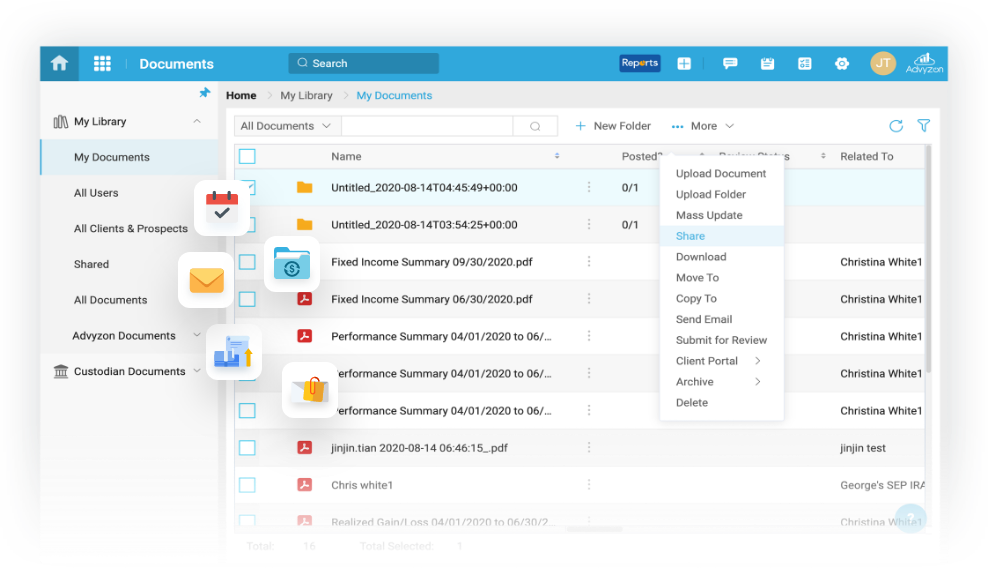 Instant and secure
Access client documents instantly in our compliance-friendly document management system. In just two clicks, you can upload files to the client portal. Clients can upload documents just as easily. Plus, we automatically archive performance reports here for easy access.
Compliant, firm-wide sharing
Advyzon doesn't just make it easy to share documents with clients, we also make it easy to share documents with other members of your team. Plus, we built everything to meet requirements for SEC Rule 17a-4(f). Our Compliance app helps you track, store, and organize compliance-related documents. You can also access WORM support, chief compliance officer document retention policies, document review, and audit trails.
Client
Portal & Mobile App
Collaborate with clients
Give clients a seat at the table with our customizable portal and app. You design your clients' experience, from secure messaging to performance reports and invoices. Plus, the designs are interactive, so your clients feel like they're part of the experience. They can sync held-away accounts, view their net worth, or look at performance over time.
Consistent and beautiful
We designed the client portal and app to be highly functional, but we also designed them to be beautiful. Customize everything to match your brand, so your client portal matches your quarterly reports, annual review documents, and the overall look of your website.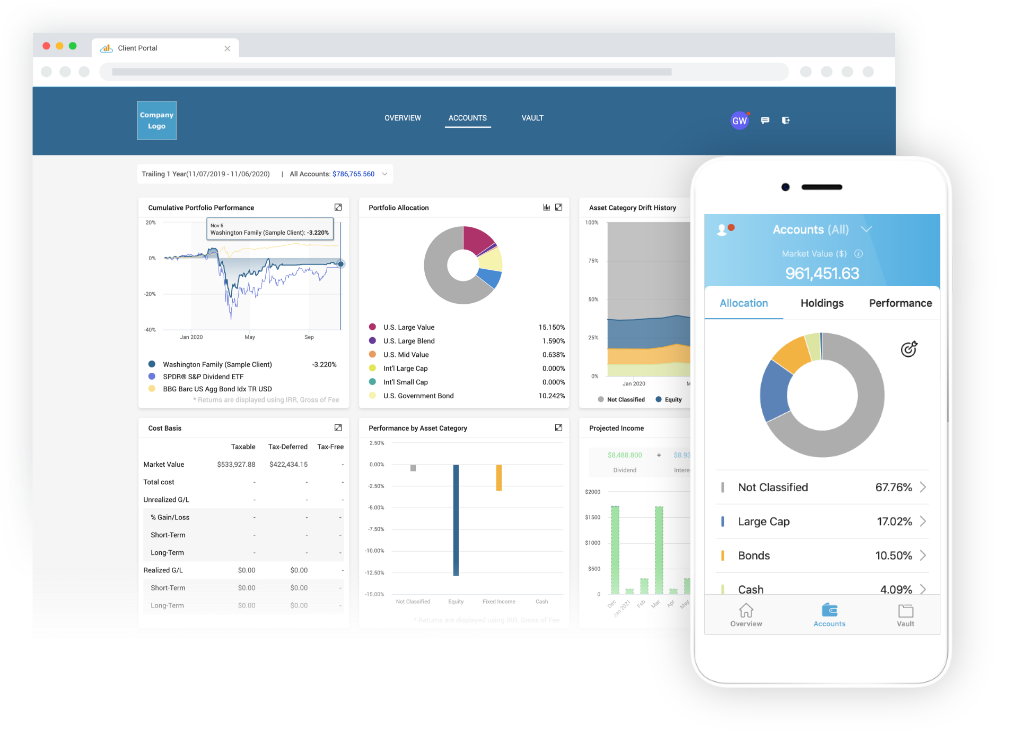 Dashboard
& Business Intelligence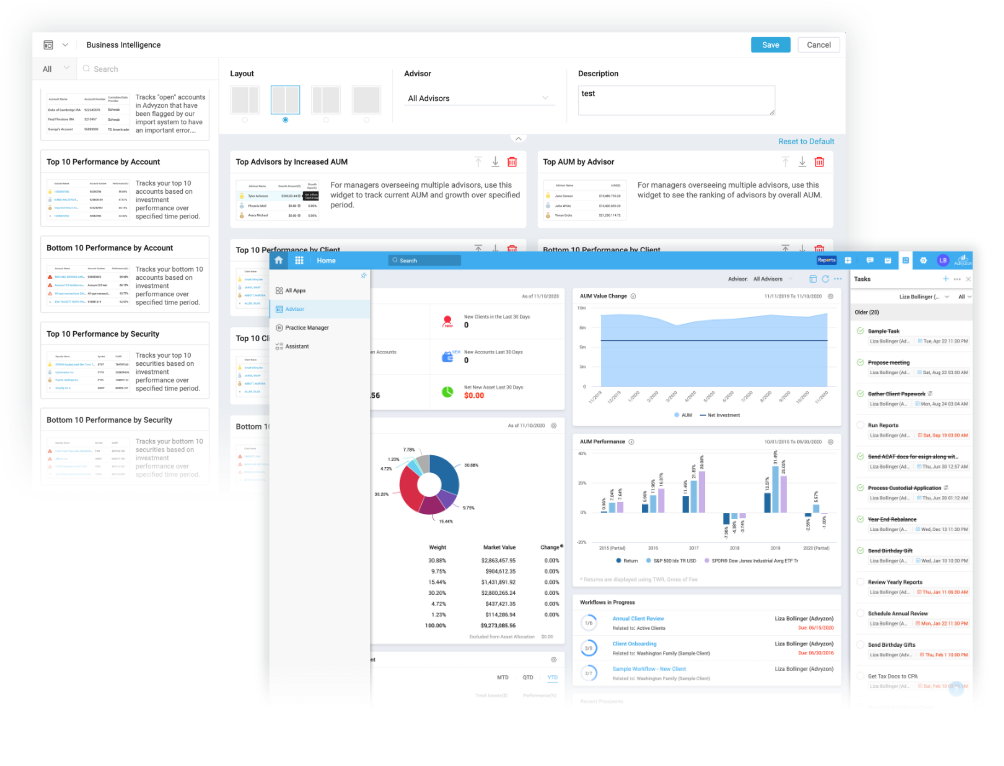 Empower your team
Play to your team's strengths with Advyzon's customizable dashboards. Our platform lets every member of your team design their own dashboard. A portfolio manager can put asset allocation and performance front and center while an office manager might focus on client communications and billing.
Learn about your business
Use our dashboards and Business Intelligence tool to view your key performance indicators over time. Look at your firm's assets under management and fee structures or drill down further to look at top- and bottom-performing securities. The tool lets you view and analyze 30 different components of your business so you can do more of what's working and adjust what's not.
Communication that highlights your brand
Grow your business with our newest set of tools to help you improve client communications. Use our Twitter integration to keep your clients up-to-date on your latest market insights, or up your newsletter game with our mass messaging. Advyzon makes it easier to have meaningful interactions with your clients (and prospects) by connecting you in ways that feel natural.
Learn more about clients and prospects
Use our Prospect Portal to gather information from potential clients, then use that same information to open a digital account with Advyzon, custodians, and other partners. It's a smoother experience for your clients that can help you build trust from day one. Plus, use our Fact Finder along with the Prospect Portal to help you discover key details. You can even use our Fact Finder with existing clients to gather feedback and gauge satisfaction at scale.